November 1, 2016
Posted by:

Sadman Sakib

Category:

Technology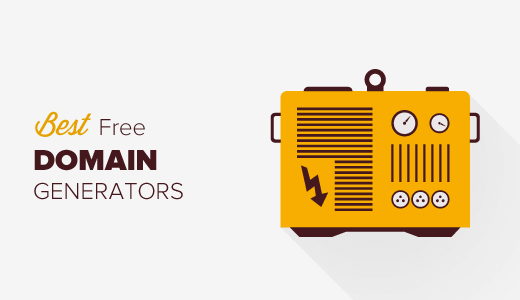 Do you want to start a blog or website, but not sure which domain name to use? Picking the right domain name isn't easy. Specially when you come up with something unique, memorable, and meaningful only to find out that it's already taken. In this article, we will share 14 best free domain name generators to help you find the perfect domain name for your business.
14 Best Domain Name Generators
Word of advice:
These domain name generators are artificial intelligence, so they are not perfect.
However they are good enough to get the creative juices flowing in your head, so you can pick the best domain name for your website.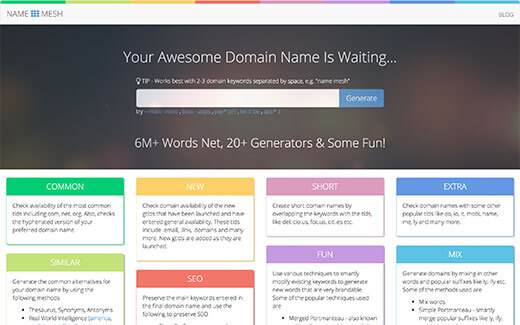 There are a lot of complicated domain name generators that require you to tweak different settings to get the results you're looking for. Name Mesh isn't one of them. This tool is incredibly simple to use. Just type two or three keywords into the search bar and the generator produces a variety of available domain names categorized under headings like "common," "new," "short," "similar," " and "fun."
Lean Domain Search is consistently ranked as one of the best domain name generators on the internet, and rightly so. All you have to do is start with a keyword and you'll get a bunch of results. (And I mean a BUNCH.) You can list them by popularity, length, or alphabetically. You can also set search term filters for more focused results.
While the tool's layout and design may not be as attractive as some of the more modern tools, don't confuse its bland look with a lack of results. Bust a Name has a ton of features that other tools simply don't have. These include the ability to set prefixes, suffixes, hyphens, plurals, and even the option to drop the last vowel of a word.
Some people just want a simple interface that does everything for them. If you fall into this category, Domain Puzzler is a good option. Type in a bunch of words, set your extensions, and you're ready to roll. If you want some more advanced sorting options, you can always select the "advanced" tab.
Shopify is known for offering free tools to its visitors and the Business Name Generator tool is a good one. There isn't a ton that sets this tool apart from the others in terms of features, but it's one of the quickest and easiest to use.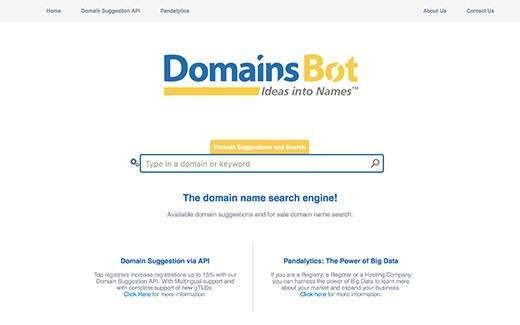 One of the neat things about DomainsBot is that it will actually notify you when a domain name that's currently taken is about to expire. This gives you the ability to earmark certain names and possibly claim them if they do end up expiring.
NameStation is more than a domain name generator, it's a community. In addition to searching for domain names, you can also host a contest and crowdsource name suggestions. So, not only are you getting automated results, but you also get creative input from other people.
Panabee is aesthetically pleasing, which matters to some people. It also gives you a list of related terms, which can help point you in another direction. An added bonus is the feature that checks social media usernames on Facebook, Twitter, Instagram, and Tumblr.
Considering the simple look of this generator, Dot-o-Mator is fairly functional. Start by developing a list of beginning words and then create a list of endings. Hit the combine button and you'll get a bunch of results. There's even a mobile app so you can generate names on the go.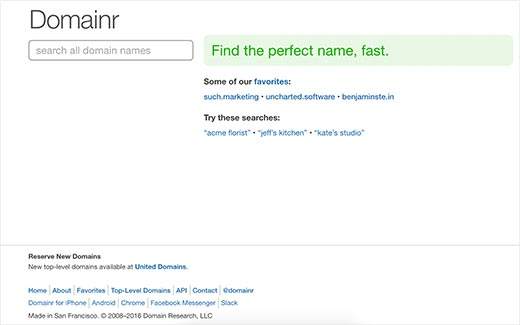 Domainr doesn't mess around with superfluous elements or functions. It's designed to be a tool that you can access and use in just a few seconds. It produces a handful of available top-level domains and then ranks the best purchase options based on name, features, and price.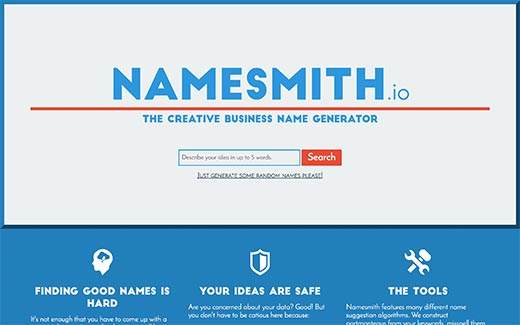 There's some speculation amongst online entrepreneurs that name generators record your searches and then use that data in the future to purchase certain domain names that they feel like they could resell at a higher price. Whether that's true or not, nobody knows. However, Namesmith doesn't make you speculate. They promise not to share your data or sell it to others. All keywords are promised to be safe.
Wordoid is one of the few domain name generators that will let you set languages, word length, and patterns. Plug in a few keywords and see what you get. You can even save past searches for future reference.
Cool Name Ideas is, well, really cool. The tool asks you a few different questions – such as the type of business you're naming, what benefits you're providing to customers, and what style of business you run – and generates custom names that are tailored to your brand.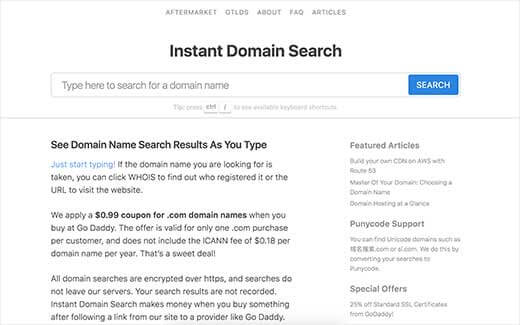 As the name suggests, Instant Domain Search is a super fast almost instantaneous search tool. It starts showing you results as soon as you start typing. It also tries to show different variations and combinations as you type.