December 18, 2016
Posted by:

Sadman Sakib

Category:

Beginners Guide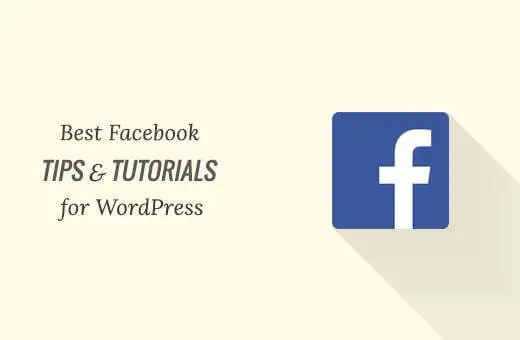 Looking for some Facebook tips and tutorials for your WordPress site? With more than a billion active users, Facebook is the largest social media website in the world. No website owner can afford to ignore the potential of Facebook for the success of their business. In this article, we will show you some of the best Facebook tips and tutorials for WordPress users to help you maximize your reach.
1. Add Facebook Page Plugin in WordPress
Facebook Pages allow you to engage with your audience on Facebook. You can use your Facebook page to promote your WordPress site. However, you will also need to let your users know that they can find you on Facebook. Facebook Page plugin allows you to add a Like box to your website. Your users can then like your Facebook page without leaving your website.
2. Add Facebook Instant Articles for WordPress
Facebook Instant Articles is a Facebook feature which allows your content to load upto 10x faster on mobile devices. It uses the same technology used in Facebook mobile apps.
Faster speed tremendously improves the user experience on mobile devices. Users will see a lightening bolt icon on articles available in Instant Articles format. This encourages more users to click on your content in their Facebook news feed.
3. Add Facebook Remarketing/Retargeting Pixel in WordPress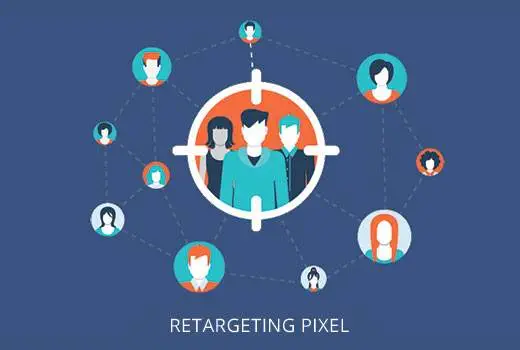 Ever wondered how you start seeing Facebook ads for websites you visit outside Facebook? This is called retargeting also known as remarketing.
Those websites use Facebook retargeting pixel. This pixel does not add anything visible to your site. It only sends a browser cookie to your users which allows Facebook to track them on Facebook.
People who are already interested in your website are more likely to click on your ads on Facebook. It also helps you develop brand recognition among your users.
4. Add Facebook Open Graph Meta Data
Facebook automatically displays your article's title, description, and an image when someone shares it on Facebook. However, sometimes Facebook is unable to show the right image or correct description.
Facebook Open Graph metadata allows you to tell Facebook which image and description you want them to show.
The easiest way to add Facebook open graph meta data is by using the Yoast SEO plugin. Simply install and activate the plugin.
Upon activation, you need to visit SEO » Social page and click on the Facebook tab.
After that, you need to click Enabled under 'Add Open Graph Meta Data' option. Don't forget to click on the save changes button to store your settings.
Yoast SEO will now automatically add Facebook open graph meta data for all posts and pages on your WordPress site.
5. Add Facebook Comments in WordPress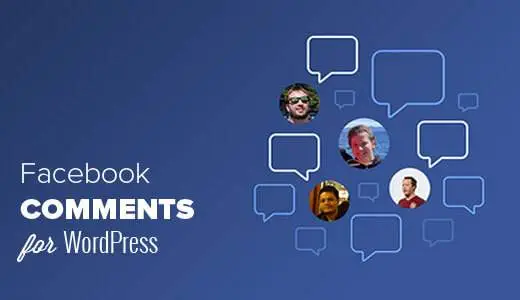 If you get a lot of comments on your articles, then they can slow down your website. By using Facebook comments, you can ease that load from your website and make it faster.
Another benefit of using Facebook comments is that it helps you get more likes and traffic from Facebook to your articles. Users commenting on your posts can instantly share their comment with their friends.
6. Add Login with Facebook in WordPress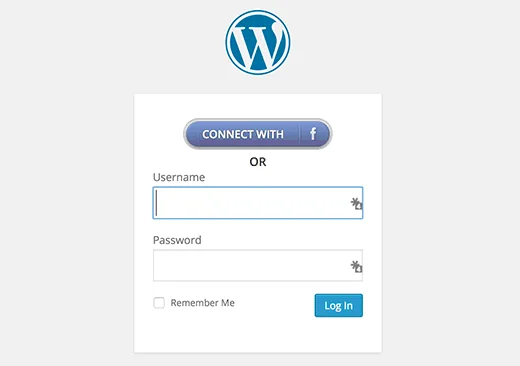 Social login buttons allow your users to log in to your website using their existing social media accounts. This helps them login quickly and saves them from remembering another password.
To add Facebook login on your site, the first thing you will need to do is install and activate the Nextend Facebook Connect plugin. Upon activation, go to Settings » Nextend FB Connect to configure the plugin.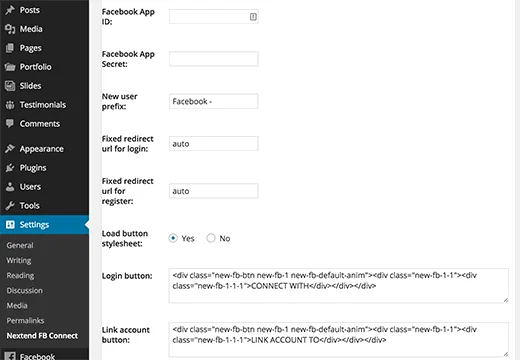 The plugin requires you to provide a Facebook app ID and secret keys. You can create an app by visiting Facebook Developers website.
7. Get Facebook Insights for Your WordPress Site
Facebook Insights allows you to see how your content is doing on Facebook. It shows which of your posts or pages are most liked and shared. If you are using Facebook comments, then you can also see which posts get more comments.
The easiest way to get Facebook Insights is by using the Yoast SEO plugin. After installing and activating the plugin, head over to SEO » Social page and click on Facebook tab.
You need to scroll down to 'Facebook Insights and Admins' section. Here you can click on 'Add Facebook Admin' button and provide admin's name and Facebook user ID.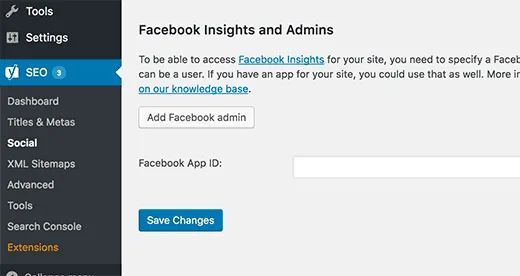 If you have already created a Facebook app for your page, then you can provide an App ID instead of a user's ID.
Don't forget to click on the save changes button to store your settings.
That's all you can now visit Facebook Insights page and you will see your website listed there. Click on your website to see your Insight reports.
8. Add Facebook Author Tag in WordPress Posts
Facebook author tag allows you to display author name with your articles when they are shared on Facebook. The author name is linked to author's Facebook profile, allowing you to get more users engaged with authors on your site.
Once again, you will need the Yoast SEO plugin. First you will need to enable Open Graph meta data (see above).

After that, you need to go to your profile Users » Profile page. Scroll down to Facebook Profile URL option and enter your Facebook profile URL.
Don't forget to click on the Save Changes button to store your settings.
That's all, you will now start seeing an author name when your posts are shared on Facebook.
9. Create Custom Facebook Feeds in WordPress
Displaying your Facebook posts on your WordPress site can help you boost engagement and convince more users to like your Facebook page.
The Custom Facebook Feed plugin helps you display your Facebook status while making it match your website design.
10. Embed Facebook Video in WordPress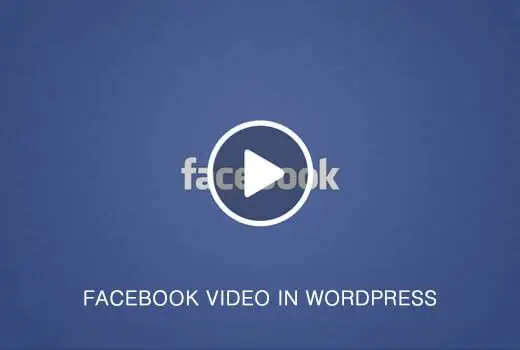 Facebook videos are hot. If you're sharing a lot of unique video content with your Facebook audience, and want to embed them on your WordPress site, then it is definitely possible.
This process is not as streamlined as one would hope, but our hope is that Facebook will make it easier in the future.
We hope this article helped you find the best Facebook tips and tutorials for WordPress.