November 10, 2016
Posted by:

Faisal Ahammad

Category:

Marketing Tips
Marketing & It's different types – Having a web presence (Online Marketing)
A world famous quote says "You can sell everything if you can tell everything"
Marketing in 21st century is more challenging and exciting activity than the past. Now-a-days, the marketers have more exposure to the different technologies, everyday changing and improving strategies, media opportunities and communication. They have more choices to reach out to vast majority of public, to engage them and make them not only buy their product but to convert them as repeat clients.
Today the marketers/ businesses have
More communication choices
More creative options like never before
More consumer choices
Social media marketing tool
Market researchers & new strategies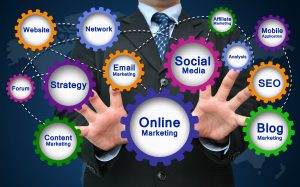 Importance & types of marketing:
All the primary aspects of a business like its start, growth, success and retention to be on top lies only in successful marketing. The overall marketing domain starts from advertising, building good public relations, promotions of the products & services, sales and eventually turning them into your trusted and repeat customers. Today, technology has changed the course of life for everyone living on this planet. There are many different marketing approaches being followed across the globe which may vary time to time. 21st century is the era of technology so marketers tend to go for
Event marketing
Content marketing
Email marketing
News letter marketing
Search & Direct marketing
Social media marketing
Community marketing
B2B & B2C marketing
Promotional marketing
Online marketing
There are hundreds of such marketing techniques. We can name all these technology driven techniques as Internet/website marketing.
Internet & website marketing:
Web marketing refers to promote your business, product and services online. Now a days, E-commerce/ online marketing has revolutionized the businesses. Companies have shifted to online business promotions as it is the less expensive and  more effective way of communicating your message to different types of people, around the globe and in just some clicks. People promote their business via YouTube, Blogs, Face book pages and many other free advertising spaces available on the internet.
Website marketing has a simple logic; the more traffic brings more clients, the more clients become acquired clients and sales & it bring profit.
If you've got the best product or service, have an amazing website, even have the best customer service but no one knows that even you exist, and there's a reason for that; with over 110 million public websites out there, there's a good deal of competition in just about every known niche. That's why it's important to not only set your website apart from its competitors, but increase its overall visibility through online marketing and search engine optimization. In short, your website/business can only be on top if you always keep up with the LATEST HAPPENINGS around the world.